Keeping you safe in Rustington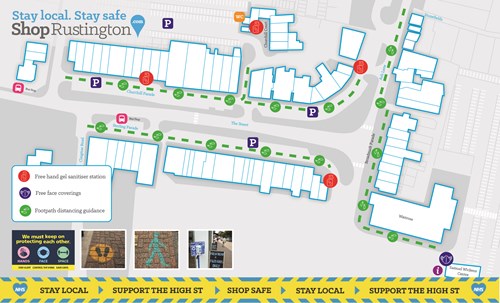 We've seen some fantastic examples of community spirit over the past few months and nowhere more so than in lovely Rustington. The village is renowned for its wealth of great shops, cafés and restaurants in pedestrian-friendly shopping areas, ranging from major high street names to specialist independent stores – and for being the only shopping centre in West Sussex to offer three hours free parking.
The village's retailers have been working hard behind the scenes to do everything they can to make visiting Rustington a safe and welcoming experience so that people can shop with confidence and support this very special high street at the heart of the community.
So although your shopping experience feels very different right now, Rustington is still the very special local shopping centre that we all know and love. 
Free sanitiser stations can be found throughout the village.
Free face masks can be obtained from the Samuel Wickens Centre.
Please remember to wear a face mask, wash your hands or sanitise regularly and give people space to shop.
For further details of the fantastic range of Rustington stores and businesses visit shoprustington.com/stores/