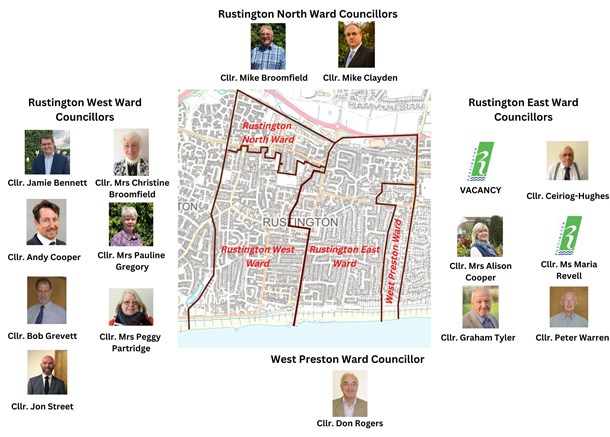 The Parish of Rustington has 4 Electoral Wards:
North Ward – Cllr Mike Broomfield and Cllr Mike Clayden

West Ward – Cllr Jon Street, Cllr Bob Grevett, Cllr Mrs Peggy Partridge, Cllr Jamie Bennett, Cllr Christine Broomfield, Cllr Andy Cooper, Cllr Mrs Pauline Gregory

East Ward – Cllr Mrs Alison Cooper, Cllr John Ceiriog-Hughes, Cllr Ms Maria Revell, Cllr Graham Tyler and Cllr Peter Warren.  There is currently 1 Vacancy.

West Preston Ward – Cllr Don Rogers
For details about individual Councillors follow the link to Councillors.